Furthering Fluidity & Flow – Our PSEN Training Environment
Our Training Space
Our training space was designed and constructed specifically to support the type of in-depth training with personal depth work that we provide; in this way, our training environment is a perfect match for our training group integration as well as our training group size.
We use "Lighthouse", the circular training space seen above, for all of our training needs – from morning exercise and yoga, day-long training in small groups and dyads, and for large group evening gatherings.
Our Training Grounds
We are blessed with a tremendous amount of privacy provided by the property and surrounding forests and river, which offers tranquility and beauty of nature.  We are also tremendously supported by the Sevenoaks Retreat Center staff, who appreciates our work and our presence on their land.
Other Views of Our Training Grounds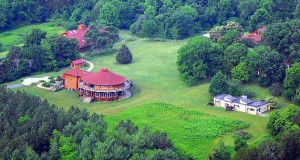 Our First PSEN US Training Group Celebrating Their Four Year Completion